Oh, my! It has been so hard to keep this new sew-along under wraps!
Erin
,
Rochelle
, and I have been hatching this behind-the-scenes for a little while now, all the time looking like
the three little monkeys
trying to keep it a surprise! However, debut day is here and we are delighted to announce our new project:
Sew Colette 2.0
!
Born from a desire to keep the creativity and camaraderie going from
the original Sew Colette Sew-Along
, Sew Colette 2.0 picks up right where we left off, with a few minor changes. Sew Colette 2.0 is a collaborative process, featuring tutorials, guest posts, and lively discussion, as seen in the handbook sew-along, with some very special guests coming to share their expertise.
For this new venture, we will be sewing our way through the
Colette Patterns library
! Following a bi-monthly (alternate month) schedule, participants will vote on which pattern to sew in polls posted on all of our blogs. Once the votes are in and the winner chosen, the project begins! Each project schedule allows for a relaxed pace that fits with (we hope) everyone's busy lifestyles. After all, one of the reasons we all sew is for the sheer enjoyment, right?
Participants are encouraged to sew as many or as few garments as they like. The Colette Patterns library is extensive (lucky for us!) and features many wonderful patterns. In keeping with the spirit of the original sew-along, we will be venturing into croquis territory, as this is such a valuable tool to creating well-fitted garments.
Without further ado, we are delighted to announce that our very first project is the beautiful
Hazel dress
. Perfect for the summer, the Hazel dress is a hallmark of classic Colette Patterns style: beautiful fit, unique design features, and straightforward construction.
The Hazel Schedule:
Monday, June 4th: The Muslin
Monday, June 11th: Fit Techniques
Monday, June 18th: Fabulous Fabrics
Monday, June 25th: Sewing Hazel
Monday, July 9th: Hazel Parade
To access all the posts and projects from the original Sew Colette sew-along, please
click the tab
on my menu bar.
JOIN US
Come and sew-along with us as we create a glorious Colette Patterns wardrobe! Rochelle has designed beautiful logos for the sew-along and feel free to grab the code to post one on your own blog or website.
Sew Colette 2.0 180px wide: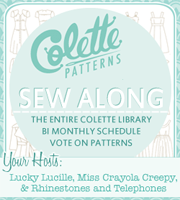 Sew Colette 2.0 250px wide:
You are encouraged to post photos of your creations (muslins and WIPs, too!) in the
Sew Colette Flickr group
. Don't forget to cross-post in the
Colette Patterns Flickr group
, too!